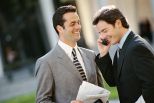 Interim Management Services


Hire our multilingual, highly-qualified staff for
a set project or time period.
We can break down communication barriers
you may have encountered with international
clients in the past.
No project is too large or small for us to manage.
Contact Information
Tel: +31-416-850.730.
E-Fax : +31-84-749-17.97.
E-mail : info@hollando.net
Click here for our Contact Form

V Card :
Click here for our V-Card for Outlook or Outlook Express.